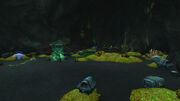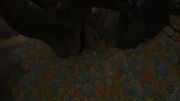 Secret Treasure Lair is a cave under the two big trees at Soldier's Torment in Broken Shore and can be accessed by the Peculiar Rope next to the sign Nothing Secret Here!. A lot of Curious Wyrmtongue Cache can be found here.
NPCs
Notes and trivia
To leave the cave, use the Escape Rope.
In-game strings refer to it as a "Super Secret Cave".[1]
Patch changes
References
External links