Objectives
Distract Karr'gonn and slay Dark Cultist Azennios at the Seat of the Chosen in Hyjal.
Provided item:
 [Ogre Disguise]
Description
According to the intelligence you acquired, there is major friction between the ogres and non-ogres in the cult.
High Cultist Azennios and the ogre mage Karr'gonn are meeting at the Seat of the Chosen in an attempt to ease the conflict.
There is an outhouse like this one at the Seat of the Chosen. Go there and put on this ogre disguise. Find a way to kill Azennios while he's in this mission of peace.
We must exploit this division as much as we can!
Rewards
Progress
Is it done yet, <name>?
Completion
Excellent job, <name>! You've outdone yourself this time.
Notes
Head northwest to the Seat of the Chosen. At [77.4, 48.1]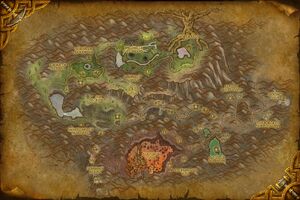 is the Ogre Outhouse. Use the Ogre Disguise at the outhouse to put on the ogre disguise, then walk in to the big building where Karr'gonn at [76.6, 49.1]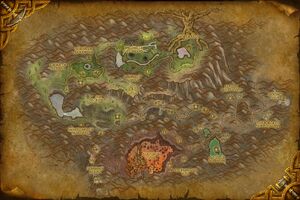 and High Cultist Azennios are talking. Talk to Karr'gonn:
Yeah? What's the matter?
 Boss, one of the boys is causing some trouble outside.
Kar'gonn says: What? I'll show that pipsqueak!
High Cultist Azennios says: I've got a bad feeling about this.
Karr'gonn walks out. Azennios goes neutral, and can be attacked and killed while in costume. After his death, Karr'gonn runs back in.
Karr'gonn says: Curses! Who killed the human!? This is not good!
Patch changes
Hotfix (2013-06-24):

Players attempting to talk to Karr'gonn should now properly receive a dialogue option to distract them.



Patch 4.0.3a (2010-11-23): Added.

Progression
External links