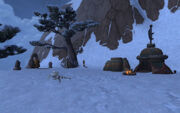 Seeker's Point can be reached at the end of Seeker's Folly on the path to the Neverest Pinnacle of Mount Neverest.
The Emperor's Burden - Part 2 can be found behind Lorewalker Cho. The pandaren lore object is one of the objectives of the Pandaria exploration achievement

 [The Seven Burdens of Shaohao].
Patch changes
External links