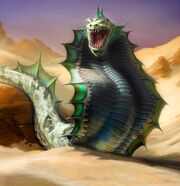 Serpents or cobras are a type of large snakes that come in a variety of colors. The cobras of Azeroth are renowned for their fast-acting venom and swift strikes.[1] They are good swimmers and attack with their fangs and
[Corrosive Spit]. Serpents are found in the Wailing Caverns, Zul'Gurub, Silverpine Forest, Zul'Farrak, Sholazar Basin, the Sunken Temple, and in Shadowmoon Valley. Sseratus was the loa serpent god until he was killed by the Drakkari.
Named
Types
As a companion pet
As a hunter pet
A serpent is a family of Cunning pets and are tamable by hunters starting at level 17. Serpents, through use of their
[Corrosive Spit] ability, can inflict an armor penetration debuff on their target. This makes them a good choice in raids when player-provided buffs such as

[Sunder Armor] or

[Expose Armor] are not available.
There are eight different skins available for serpent pets. Most unique of mention is that of the

 Sunburst Adder, which features a significantly bright red skin. Once popular shortly before the release of The Burning Crusade for their intimidating appearance and novelty. Serpents were not normally tamable for a long time. Sandfury Guardians were briefly tamable as a bug (classified as wind serpents). However, the family was rendered tamable with patch 2.0.
Patch changes

Patch 6.0.2 (2014-10-14):

[Serpent's Swiftness] replaced with

[Serpent's Cunning].


Patch 5.1.0 (2012-11-27): Arcane wyrms can now be tamed as serpents.


Patch 5.0.4 (2012-08-28):
[Corrosive Spit] is replaced with

[Serpent's Swiftness].


Patch 4.0.1 (2010-10-12): Ability changes.

Patch 3.0.2 (2008-10-14): Changes.
Serpent can no longer eat fish.
Armor, health, and damage had no bonus and now each has a +5% bonus.


Patch 2.0.1 (2006-12-05): Now tamable.

Gallery
See also
References
External links

Petopia
Creature group
Beast creatures

 

Arthropod

Arachnid
Crustacean
Insect

 

Mammal

Carnivoran
Ungulate

Bovids
Camelids
Cetaceans
Proboscids
Swine
 

Basic
Special

Acid Bite

Chi-Ji's Tranquility

Defense Matrix

Dragon's Guile

Feather Flurry

Fleethoof

Furious Bite

Grievous Bite

Infected Bite

Nether Energy

Niuzao's Fortitude

Obsidian Skin

Scale Shield

Spirit Pulse

Toxic Sting

Winged Agility

Exotic

Calcified Carapace

Dune Strider

Shimmering Scale

Bonus
Specialization