This article is about the Vol'dun subzone. For the ship in Borean Tundra, see The Serpent's Maw.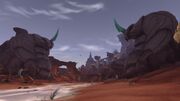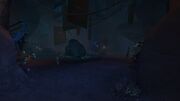 The Serpent's Maw[56.2, 38.8]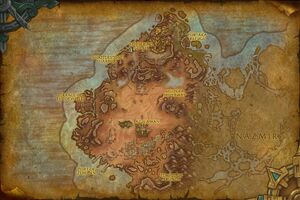 is an area located at the eastern end of the Slithering Gulch in Vol'dun, on the northwest side of the Brine Basin. Although its most striking feature is a pair of enormous serpent statues flanking the entrance into the Slithering Gulch, the subzone mainly consists of a Faithless sethrak encampment surrounding the entrance to a cave. The subzone continues a short distance northeast before terminating on the northern rim of the Brine Basin.
The swarming sethrak here attacked a group of vulpera scavengers from the nearby Vulpera Hideaway and captured two of them, Hakasi and Kipp.[1][2] In addition, the camp contains many of the vulpera knickknacks that were stolen during the sethrak raid on the Abandoned Burrows.[3]
Inhabitants
In the northeastern parts of the subzone:
In the encampment and cave:
References
^  [30-50] 

A Meal for Birds

^  [30-50] 

Aided Escape

^  [30-50] 

Knickknack Takeback