This realm is connected to the realms: Executus US, Kalecgos US, Shattered Halls US
This article is an information page for the Deathwing realm (server)

The contents herein are entirely player made and in no way represent official World of Warcraft history or occurrences which are accurate for all realms. The information and events listed are of an independent nature and applied for roleplaying, fictional, speculative, or opinions from a limited playerbase only.
Realm's Namesake
Deathwing the Destroyer (originally Neltharion the Earth-Warder) is a Dragon Aspect, and leader of the Black Dragonflight. Thousands of years ago, Neltharion was empowered by the titan Khaz'Goroth with dominion over the earth and the deep places of Azeroth. However, driven mad by the Old Gods, he turned on the other Aspects during the War of the Ancients, capturing a portion of their power in the Dragon Soul. Portrayed throughout Warcraft lore as a villain - but also as a compelling anti-hero - his name has become one whispered with fear and contempt.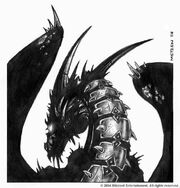 Following the Second War, Deathwing adopted the form of Lord Daval Prestor, seeking to gain the vacant throne of Alterac and eventually destroy the Alliance of Lordaeron. During the events of the novel Day of the Dragon, the Dragon Soul is destroyed, and Deathwing is defeated by the other Aspects. His current whereabouts are unknown.
Deathwing (PvP) - Official Forums
Deathwing Forum
Progression Thread


Top 10 Guilds
1. [A] Inertia Cleared: SSC | The Eye | Hyjal | Black Temple | Sunwell (5/6)
2. [A] Poseido Cleared: SSC | The Eye | Hyjal | Black Temple | Sunwell (4/6)
T3. [H] Addiction Cleared: SSC | The Eye | Hyjal | Black Temple | Sunwell (2/6)
T3. [H] Catalyst Cleared: SSC | The Eye | Hyjal | Black Temple | Sunwell (2/6)
T5. [A] CAlliance Cleared: SSC | The Eye | Hyjal | Black Temple
T5. [H] Cartel Cleared: SSC | The Eye | Hyjal | Black Temple
T5. [H] Descendants of Draenor Cleared: SSC | The Eye | Hyjal | Black Temple
T5. [H] Thunder Billies Cleared: SSC | The Eye | Hyjal | Black Temple
T5. [H] Unbridled Apathy Cleared: SSC | The Eye | Hyjal | Black Temple
T5. [A] U N K N O W N Cleared: SSC | The Eye | Hyjal | Black Temple
TBC Raid Accomplishments
Pre-BC Raid Accomplishments