This realm is connected to the realms: Akama US, Mug'thol US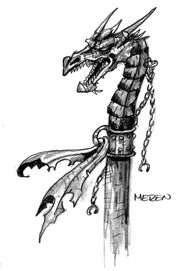 This article is an information page for the Dragonmaw realm (server)

The contents herein are entirely player made and in no way represent official World of Warcraft history or occurrences which are accurate for all realms. The information and events listed are of an independent nature and applied for roleplaying, fictional, speculative, or opinions from a limited playerbase only.

Dragonmaw is a Pacific Timezone PvP server for Blizzard's MMORPG, World of Warcraft. This server was one of the original servers online when World of Warcraft initially launched.
The server's name comes from the Dragonmaw Clan, a legion of orcs who primarily stayed in Outland, and can be found in Shadowmoon Valley and Wetlands.
This server has also been known to its players as Dramamaw or Lagonmaw, with a queue time to enter of OVER 9000!
Notable Guilds
---

Midnight Reign

Audacia
Avada Kedavra
C O N V I C T
Camp Anawana
Chosen
Crawl Stagger Fall
DARK DOMINION
De Novo
Death Disciples
DeathDealers
Demented Toasters
Elekks Gone Wild
Exile
Hells Elite
HOLY
Kahu
MIDNIGHT SOCIAL CLUB
Mortalis
N I N J A I
Narcotic
Pain
Project Eureka
Shafted
Solinari
Sua Sponte
TBoH
The Hellhammers
The Lords of War
The Nines of Eight
Unworthy
Vulgar
War Storm
WHY YOU MAD

---

Primal Fear

Website
Build More Burrows
Bum Fight Krew
Cause of Death
Critical Mass
Dark Horizon
DEaDLY CHaOS
Dirt Nap
Distorted
Dragon Maw Z
Eternal Nightmares
Eternal Shadow
Finity
GoDie GoDie Club
Honoring Silvermoon
In Hoc Signo Vinces
Is Rolling With The Burn
Lazy Peons
Lífe After Death
No Choice
No Dice
Paranoia
Prelude
RAGE
Risen Sacrifice
Ruthless
Shikitsu and Panda
Starfleet Academy
The Hordes Co
Toot Toot
V for Vendetta
Venomlust
X Rated
Links