This realm is connected to the realms: Balnazzar US, Warsong US, The Forgotten Coast US, Alterac Mountains US
This article is an information page for the Gorgonnash realm (server)

The contents herein are entirely player made and in no way represent official World of Warcraft history or occurrences which are accurate for all realms. The information and events listed are of an independent nature and applied for roleplaying, fictional, speculative, or opinions from a limited playerbase only.
Gorgonnash Forums (PvP)
Gorgonnash Crafting List
Server Population Statistics
According to the Warcraft server population-tracking website Warcraft Realms, Gorgonnash's active population is about the same. The reported ratio has ranged from active players 1:1, and overall 1.5:1
Gorgonnash is fairly very highly populated server, with the most recent Census results (Mar 2008) indicating an overall population of about 21,000 players.
Statistics as of 30-January-2008:
Gorgonnash Population

Levels 10-70

Level 70 only

Alliance: 10,387 (62%)
Horde: 6,464 (38%)
Alliance: 4721 (65%)
Horde: 2540 (35%)
By Race

By Class

By Race

By Class

By Race

By Class

By Race

By Class

16,851 (1.6 Alliance : 1 Horde)

7,261 (1.9 Alliance : 1 Horde)
Server Progression
Top Ten Guilds
Only the top 10 guilds are shown here. Ranks are based on kills and time of kill. For a more up to date listing, please go to this Progression Thread on the Gorgonnash realm forums.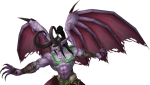 The Burning Crusade (T4-T6 Content)
| | |
| --- | --- |
| Boss | Guild |
| NIghtbane | [Unrivaled Dominion] |
| Zul'jin | Oblivion |
| Gruul the Dragonkiller | [Unrivaled Dominion] |
| Magtheridon | [Unrivaled Dominion] |
| Archimonde | Oblivion |
| Kael'thas Sunstrider | Eternity |
| Archimonde | Oblivion |
| Illidan Stormrage | Eternity |
| Kil'jaeden | Oblivion |
Pre-Burning Crusade (T1-T3 Content)
| | |
| --- | --- |
| Boss | Guild |
| Onyxia | [Frenzy] |
| Ragnaros | [Frenzy] |
| Nefarian | [The Kindred Outcast] |
| C'Thun Kill | [Reign] |
| Four Horsemen | [Unrivaled Dominion] |
Pre-Burning Crusade
| | |
| --- | --- |
| Item/Rank | Name - Guild |
| Thunderfury, Blessed Blade of the Windseeker | [Khades - Unrivaled Dominion] |
| Sulfuras, Hand of Ragnaros | Daleson - Unrivaled Dominion |
| Scarab Lord | [Doink – The Kindred Outcast]. |
| Grand Marshal | Trueciner |
| High Warlord | Apedog |