This article is an information page for the Stormreaver realm (server)

The contents herein are entirely player made and in no way represent official World of Warcraft history or occurrences which are accurate for all realms. The information and events listed are of an independent nature and applied for roleplaying, fictional, speculative, or opinions from a limited playerbase only.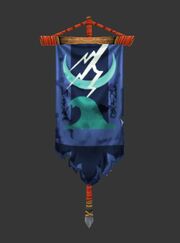 Stormreaver is a Player vs Player server for Blizzard's MMORPG, World of Warcraft. It was one of the first World of Warcraft servers released on launch day; November 23rd, 2004. At one time, Stormreaver was the most active PVP server in the US, it is now proudly part of Battlegroup 7 (Rampage). It has been home to some of the most prominent and well known guilds and players in the world in both PVE and PVP. It was also the home of the first worldwide level 60 (Xenif, Troll Rogue).
The realm was named after the Stormreaver Clan, one of the many Orc clans that made up the vast Horde in the First and Second wars. It was lead by Gul'dan and his most trusted Warlocks and supporters and was responsible for many events that shaped the course of Azeroth's history. Upon the death of Gul'Dan and the destruction of his clan at the Broken Isles, the few remaining members have scattered across the face of Azeroth, hiding in secluded places or joining the Twilight's Hammer.
Stormreaver has been a high population server since launch. Many entire server populations from DAOC and EQ chose Stormreaver because of its geographical listing (CST). Due to the high population, Stormreaver has been subjected to four different "free transfers" periods:
Stormscale - May 2005
Korgath - June 2006
The Underbog - January 2007
Drak'tharon - February 2009
Community Information and Links  
[~ttp://www.wowprogress.com/pve/us/Stormreaver WoWProgress]
Stormreaver IRC: irc.gamesurge.net#stormreaver
Top Stormreaver Guilds
Updated as of 10/26/2009
Stormreaver Rank 14 Players
---

[Druid]

Sky - Night Elf
Vestale - Night Elf


[Hunter]

Ellwen - Night Elf
Gravis - Dwarf
Lucilius - Dwarf
Mystborn - Night Elf


[Mage]

Diirty - Human
Krazyp - Human
Shehriyar - Gnome
Venguile - Human
Xenocite - Gnome


[Paladin]

Anduin - Human
Arrius - Human
Mogeax - Human
Urielfixor - Human


[Priest]

Jonchron - Dwarf
Melodii - Night Elf
Ton - Dwarf


[Rogue]

Aimee - Night Elf
Carrera - Night Elf
Jeuce - Human
Kyuthiel - Night Elf
Relinquish - Night Elf
Reven - Night Elf
Sidewinder - Gnome
Slacker - Human
Wisperz - Night Elf


[Warlock]

Gnova - Gnome
Taben - Gnome


[Warrior]

Broderick - Human
Fenia - Night Elf
Gimpli - Dwarf
Hemann - Human
Jamiz - Night Elf
Jodo - Human
Kappy - Human
Kidassassin - Human
Labyrinth - Night Elf
Marky - Human
Nooba - Human
Prowess - Gnome
Schatengeist - Human
Xehv - Night Elf




---

[Druid]


[Hunter]

Awayken - Tauren
Exphixius - Orc
Fâllen - Tauren
Vadi - Troll


[Mage]

Goatey - Undead
Neim - Undead
Saladein - Troll
Selqet - Undead
Soulphire - Undead
Xasol - Undead


[Priest]

Camelthree - Undead
Kateri - Troll
Zutaria - Undead


[Rogue]

Expunge - Orc
Killbot - Orc
Maee - Troll
Ryuikari - Undead
Satori - Undead
Sayhello - Orc


[Shaman]

Bunn - Orc
Chaun - Orc
Cyfe 1.0 - Tauren
Shurafa - Tauren
Zhamoohe - Tauren


[Warlock]

Lloos - Undead
Zedd - Undead


[Warrior]

Caol - Undead
Dreadwolf - Orc
Hashiro - Orc
Inch - Undead
Joile - Orc
Jusoha - Orc
Ksjones - Tauren
Kyan - Orc
Moraxe - Orc
Morbidgorbag - Orc
Samuraii - Undead
Yukinose - Undead
Zathar - Undead
Zephik - Undead
Famous Quotes
Magicdude: "You pull it, YOU TANK IT"
Maxium: "DONT MAKE ASSUMPTIONS!!"
Gralon: "I am GRALON!"
Hunters: "Thats a long word...I don't know what it means."
Hollander: "Old enough to pee is old enough for me"
Samang: "nyrrrreeeh" (Long/Loud nerd rage scream)
Riggins: "Hunters, Shut the fuck up"
Grenwick: "Dude! Check out my rod" (Staff)
Hobbs: "Fuck the peasants"
Fâllen: "Shut the fuck up with the piss contest, I clearly pee the farthest"
Famous Rivalries
<Impervious> vs <Righteous Might>
<Impervious> vs <The Forgotten Order> [Note: Recruiting drama and Dark Edge ninja]
<Impervious PvP> vs <Blackstar PvP> [Note: Broderick vs Sky CP Train Race]
<Blackstar> vs BWL [Note: Exploiting]
<The Cabal> vs <Impervious>
<Impervious>/<Bloodthirst> vs <Righteous Might> [Note: Outdoor Raid Boss spawns]
Magi vs Stormreaver
Stormreaver Forums vs Broderick
<Nightmare Inc> vs <Dread>
<Nightmare Inc> vs <JUICE>
<Cabal> vs <Nightmare Inc>
Gralon vs. Social Norms
<Nightmare Inc> vs <HarroW>
<Original Gangstaz> vs <Gentlemens Club>
Broderick vs Evania
Yohnstoppable vs Ellwen
Zauberie vs <Torment>
Dlish vs Stormreaver
<Hail> vs <Bloodthirst>
<Requiem>/<Impervious PvP Group> vs <Cabal/Waking/GC>
Secwind vs <Gentlemens Club>
Broderick vs <Righteous Might>
Eep vs <Cabal>
Grenwick vs. Confrontation
<Dread> vs <Impervious>
<Original Gangstaz> vs <Righteous Might> [Note: Gate Opening Race]
<Righteous Zerg> vs Emeriss
Jigen vs. Freeznfire [Note: resulted in Freeznfire leaving the server in shame, see Frz on Korgath]
Projectx vs. <Out of Line>
<Out of Line> Recruitment vs. <Well Played>
Stormreaver vs. Jaedanar
Tryania vs. Roxann
Tryania vs. Rynka
Stormreaver Server vs. Ashock
Hunters vs. Hobbs
Riggins vs. <Impervious>
<Iniquitous> vs. <Exitium> [Note: Yogg dropped Azn Tears for Iniquitous]
Aesix vs. Kimstar
Nerdrayge vs. Entrop
Hunters vs. Niggins
Rigtanna vs. Slacker/Slacka/Slackerx/Slackasaurus
<Duality> vs. Stormreaver
Narac vs Dkmario [Note: Resulted in Narac Death Gripping Dkmario over by a fire and killing him on it]
Facelol vs. Endorphine [Note: resulted in Endorphine leaving the server in shame, see Endorphine on Mannoroth]
Superstud/Face vs Rokannis/Stormreaver/The World
<Taco Bell Crew> vs Peligrosa and many other Horde [Note: Resulted in the majority of <Taco Bell Crew> disbanding guild, with some even leaving server.]
<Out of Line> returns home after a time spent on Drak'Tharon. The very next progression cycle sees Impervious and Duality disband...
Famous Events
May 6, 2005: First Stormreaver marriage takes place in Booty Bay between Twiggi and Weekly of <Velox Mortis>
Date Unknown: Geist <Minium> completes Sulfuras and proceeds to defend the Orgrimmar mailbox.
Date Unknown: Cyrk <Original Gangstaz> completes the legendary Molten Core run. Both Bindings and Eye of Rag drop.
Date Unknown: Cyrk becomes the first person to hold Thunderfury on two characters.
April 06: <Original Gangstaz> griefs <Righteous Might> in Moonglade on Eranikus encounter for days (AQ Scepter Quest)
May 5, 2006: Cyrk <Original Gangstaz> Opens the AQ gates followed by Buckyo <Righteous Might>
March 19, 2006: <Impervious> World 5th Viscidus Kill 3/19/06
April 25, 2006: <Impervious> US 2nd C'Thun Kill
May 06: Stormreaver named most active PvP Server
Date Unknown: Slamulous authors a thread labeled "Brodback Mountain", hilarity ensues.
June 06: Server transfers to Korgath open, the first Stormreaver Exodus begins.
October 2, 2006: <Impervious> 8th US Kel'Thuzad Kill
Date Unknown: Jhasa <Impervious> Constructs Atiesh
January 31, 2007: <Impervious> World 3rd kill of Nightbane.
February 20, 2007: <Impervious> World 2nd, US 1st kill of Hydross the Unstable.
March 18, 2007: <Out of Line> Server first kill of Morogrim Tidewalker.
April 19, 2007: <Aristoi> disbands. Mounted memorial march from Org to the Barrens insues. 100+
October 08, 2007: Milkofamnsia, Serration, and Gotrez bring the Brutal Gladiator title home to Stormreaver.
December 22, 2007: <Out of Line> obtains server first Armani warbear.
November 27, 2008: Astraeus, Czaagrom, Maako, and Stormfury leaves Stormreaver with Ahn'Qiraj in sight. When they return, Stormreaver's newest Scarab Lords are born.
November 16, 2009: <Impervious> claims: Realm First! Obsidian Slayer!
November 17, 2008: <Impervious> claims: Realm First! Conqueror of Naxxramas!
November 19, 2008: <Impervious> claims: Realm First! Magic Seeker!
February 2009: Server transfers to Drak'Tharon open, the second great Stormreaver Exodus begins.
April 5, 2009: Noclis (Alliance) ninja's Ashes of Alar. Grats on taking SR most hated away from Tryania!
April 14, 2009: <Out of Line> gets the World 1st Ulduar kill, defeating Flame Leviathan, making MMO-champion Hall of Fame.
June 9, 2009: Entrop <Impervious> recreates the Legendary Titan Hammer: Val'anyr, Hammer of Ancient Kings
July 9, 2009: <Impervious> claims: Realm First! Celestial Defender!
August 11, 2009: <Impervious> claims: Realm First! Death's Demise! - completing a clean sweep of server firsts in Ulduar.
October 25, 2009: <Impervious> claims: Realm First! Grand Crusader!
February 9, 2010: <Out of Line> claims server first Lich King 25 kill.
February 16, 2010: <Impervious> disbands.
June 27, 2010: <Out of Line> claims: Realm First! Fall of the Lich King! Congratulations on downing the Lich King, guys.
Content Links
Random/Funny
PvE
PvP