Severing the Sveldrek

Start
Minerva Ravensorrow
End
Minerva Ravensorrow
Level
45 (Requires 45)
Category
Death Knight Campaign
Experience
16,450
Rewards
19 40
Previous
  [45] 

Making Preparations

Next
  [45] 

Return to Acherus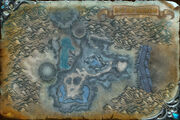 Objectives
Kill and raise 8 Sveldrek vrykul.
Description
So here's the order of things, as far as I've been told. Mortal walks into Icecrown. Mortal is brutally defeated. Mortal gets raised as Scourge.
These fools can't expect to trounce in here, do whatever they want, and leave without any circumstance. Time to make them truly as mindless as they act.
Rewards
Progress
I think the Lich King will appreciate this favor.
Completion
Watching those vrykul shamble off mindlessly made my dead heart go "pitter patter".
Gains
Notes
Kill the vrykul mobs and then interact with their bodies to raise them into undeath.
Progression
Patch changes
External links