For gender in lore, see gender.
Editorial note: Keep it clean, and no speculation.
Sexuality is not often called upon in the Warcraft universe, but it does exist in official Warcraft lore and art.
Sexuality in the Warcraft universe
Childbirth
Interracial relationships
Interracial reproduction
Main article: Half-breed
Marriage and marriage ceremonies
Tyrande Whisperwind and Malfurion Stormrage get married at the end of Stormrage.
The noun "mate" is used by many non-human races, including orcs, tauren, trolls, night elves, and dragons, from the context, it seems to be roughly synonymous to "spouse".
Dragon Aspects are commonly polyamorous, their mates are known as consorts, with the primary mate bearing the title of Prime Consort.
Members of the blue dragonflight are known to practice some form of betrothal: Kalecgos and Tyrigosa are described as "future mates".
Ajamon Ghostcaller is described as the ex-wife of Tony Two-Tusk.
After a lot of wedding arrangements, Fanny Thundermar and Keegan Firebeard get married in  [84] 

Wild, Wild, Wildhammer Wedding

.
Gender and gender roles
Note: In the game... men and women are equal in Azeroth, so the only differences between the two genders are cosmetic.[16] At least within the Alliance and Horde. There is generally more dimorphism in the lore.
Gender is usually split between males and females. However, for some creatures and races, some members of a particular gender are mentioned by lore, but rarely represented or seen.[17]
Some races show extreme sexual dimorphism, though there are a few unique exceptions:

Prior to the conclusion of the Third War, night elf society was sharply divided by gender, with the vast majority of druids being men and most warriors and clerics being women. There were a few deviations, obviously — males with no aptitude for druidism trained in the arts of war, and females with exceptional druidic gifts were trained, but these gender roles more or less defined the culture of the kaldorei for ten thousand years. In the years since Archimonde's death, this gender division appears to have eased somewhat, and more women have taken up the mantle of the druids, just as men have begun to choose the path of war or dedicate themselves to Elune.[18][19][20][21][22]
Developer statements
In the open Q&A at BlizzCon 2011, one of the questions was: "There really hasn't been a large representation of lesbian, gay, bisexual, and transgender characters in the World of Warcraft lore. Are there any chances to change that in the future?" Chris Metzen's reply was "We have I don't know how many quest designers. Probably seven? So there's a lot of people that plug away on story for this thing and certainly, like, our CDev's department's always chasing fiction and hooking characters and stuff like that, and we totally appreciate every component of our audience and want the game to kind of sing to everybody, so... Off the top of my head, I don't know if we're currently developing gay or lesbian characters but it's certainly a possibility. As long as the story's compelling... I think everything's gravy as long as it's just a really good character, well-rounded character that people really respond to, so I think it's totally an open possibility."[23]
In a July 2020 interview with Eurogamer, while discussing the Shadowlands character Pelagos (see below), executive producer John Hight stated that "WoW is a game that doesn't try to emphasise sexual relationships so in that regard, we don't necessarily tell that part of the story other than to hint around it. But we certainly have characters [that have] - or we've always thought of characters as having - different gender identities in the game. We don't try to put a big focus on it and make it a big deal, we just try to make the game feel comfortable, friendly and approachable for everybody in the game, regardless of where they come from." When asked if this meant that there are transgender characters in content predating Shadowlands, Hight replied, "Knowing some of our designers and having conversations with them, I'm sure that was the intent. But we like to keep things subtle."[24]
In an interview with Wowhead around the same time, lead narrative designer Steve Danuser stated that "I think it's a valuable thing that we show these different perspectives [on gender and sexuality] on Azeroth and want to really make clear that, you know, there's people who sometimes say, "Well, Warcraft is this medieval fantasy game and those kinds of things weren't talked about in medieval times, so they shouldn't be in Azeroth," but I disagree with that. I think that Azeroth is a world of magic and a world of possibilities, and one of the things that's really important to know is that, in Azeroth, you can love who you want, you can identify yourself the way that you want, and all of those things are possibilities. We just want the game to be able to reflect that through its storylines, and through its character customization options, and we're really excited about that."[25]
World of Warcraft
Novels

This section concerns content related to the Warcraft novels, novellas, or short stories.
Shadows Rising
Folk & Fairy Tales of Azeroth
Non-canon sources
Prostitution
Pornography
Rape
Quotes
Concubine quote:

"They fall asleep after. Me, I fall asleep during...."
Dryad annoyed speech:

"I'll attract the enemy with my human call. I'm so wasted! I'm so wasted!"
A male goblin joke:

"She told me to tie her up and do whatever I wanted to her. So I took her stereo."
A female goblin joke:

"I'm a free spirit, I don't like to be tied down. Oh, you mean that literally. I'm totally into that."
A dwarven saying:

"Be-ware, Be-ware of a gnome with long hair! Though tiny in height, if the ale is just right, she'll follow you back, and hop in the sack!"[54]
A female troll saying:

"When enraged, and in heat, a female troll can mate over 80 times in one night. Be you prepared?"[55]
Succubus:

"Don't touch what you can't afford."
In the RPG

This section contains information from the Warcraft RPG which is considered non-canon.
Childbirth
Interracial breeding
Interacial breeding is generally frowned upon by human and elven society. Half-elves usually suffer bigotry from both their elven and human parents. The elven parents often abandon their children.[57][citation needed]  [citation needed] 
Goblins and dwarves do not hold strong opinions on human-elf mating.[57]
Male harpies may not exist, as no male harpies have been reported. Harpies will breed with captive males of many species, though they prefer elves, orcs, and humans to either smaller or larger species.[58]
Romance and love
It is not uncommon for a succubus in a mortal's servitude to fall uncontrollably in love with him or her; this occurrence is not always to the master's advantage, though, for a devoted succubus can be prone to fits of extreme jealousy, especially when her master deals with those of the opposite sex.[59]
Marriage and marriage ceremonies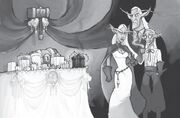 Mating rituals
Magnataur do not have a mating season. Magnataur breed when food is plentiful and chance brings a potential mate into close proximity. Once the act is complete the pair separates. Mating can pit males against each other. These fights are usually all display. The two shout and smash the ground until one loses his nerve and flees.[67]
Murlocs extract a greenish mucus from the colored head fin of threshadons for use by chieftains as a powerful aphrodisiac.[68]
Gender and gender roles
Some races show extreme sexual dimorphism, though there are a few unique exceptions:
Prostitution
Prostitution, the sex trade, and slavery are common business practices among goblins. While slavery is usually illegal in other parts of the world, it is a legitimate trade among goblins, and is condoned by the trade princes. However, it is kept secret to avoid offending potential customers who might object to the controversial business. Slaves are used not just for manual labor but for other deplorable pursuits, and have no rights at all.[74]
The streets along Ratchet's wharf teem with whorehouses (aka brothels) for those with earthier tastes.[75]
Rape
Rape is generally frowned upon in Azeroth's societies but exists. Half-human half-ogres are rumored to be products of ogre aggressions on human villages.[76] Half-orc genesis is usually violent and perverse, they are usually born to abused or victimized parents.[77] Forlarren are typically the result of couplings between unwilling night elves and demons.[78] A succubus is into pleasure and pain. Like all demons, she enjoys bringing death and misery to the mortal races, but that doesn't mean she can't have fun with them first.[59]
Harpies capture males of other humanoid races and force them to mate. These unfortunates are often hobbled to keep from escaping. Given the circumstances, seduction is out of the question. Harpies resort to magic and potions to ensure cooperation, and employ their captives until they succumb to disease and malnutrition...[79]
Notes
Gallery
This section contains images about the anatomy (nudity, sexual dimorphism, and suggestive imagery), sexuality in official artwork, and/or images that show off the physical form. They may include nudity or revealing clothing. It also includes examples of sexual dimorphism within a race.
Females
Idol is similar to real-life "mother goddess" & fertility statues (e.g. "Venus" or Goddess of Willendorf)
Males
Other
Murlocs have minimal sexual dimorphism.
See also
Flirts, who are often sexual in nature
Soulbinding, which shares some elements with mortal romance
References