Shado-Pan Garrison

Race(s)
 Pandaren
Affiliation(s)
Shado-Pan
Location
Southwest Townlong Steppes
Characteristics
Facilities

Stables

Anvil & Forge

Bank        Auctions
Travel
Flight Master(s)
Mass-transit
Portal(s)
Shado-Pan Garrison is the crossroads of Rensai's Watchpost, Sik'vess, and Niuzao Temple in southwest Townlong Steppes. The Underbough and Kri'vess are to the northeast.
Most of the major Shado-Pan players in Townlong wind up at the garrison, including Rushi the Fox, the Shado-Pan quartermaster.
Upon completing the quest

 [25-35] Through the Portal, players will be able to teleport between Shado-Pan Garrison and Shan'ze Dao.
Inhabitants
Quest givers
Quest companions
Vendors & services
Other
Patch 5.2
In Patch 5.2.0, small Alliance and Horde camps set up just outside the main camp with portals to the Isle of Thunder. The Alliance camp is at [49.7, 68.7]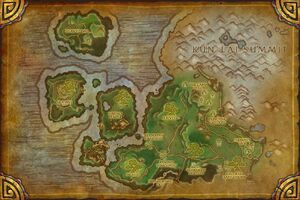 to the north, and the Horde camp is at [50.6, 73.4]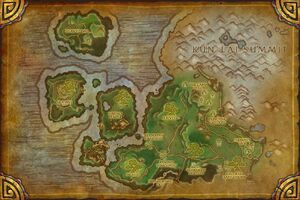 to the southeast, set up by members of the Kirin Tor Offensive and the Sunreaver Onslaught, respectively.
Patch changes
External links