For the Horde version of this quest, see  [15-30] 

Shadow Boxing

.
Objectives
Slay Ner'gosh the Shadow.
Description
Ner'gosh the Shadow is the leader of those warlocks to our north. He's the jerk that kicked me out of my home once those Blackrock orcs started showing up. Well, they're all jerks, but he's the jerkiest.
If I'm ever going to move back in near the Altar, Ner'gosh has to go.
Rewards
You will receive: 75
Progress
Go ahead. Kill him!
Completion
Knowing the way those orcs operate, there'll be another one to take his place soon. I'll see if I can't sneak back into the altar before that happens.
Thanks, my dear (if female) / buddy (if male).
Notes
Pick up

 [15-30] Warlocks Have the Neatest Stuff before heading out. After collecting Wildeyes's stuff from his place to the west, head east up to the Altar itself. Ner'gosh is standing at [9.9, 29.7]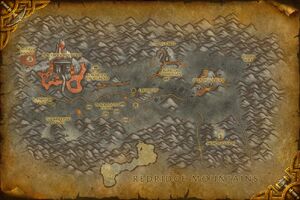 in the center. He is a level 50 orc with 3544 health, Demon Armor, Shadow Bolt and Corruption.
Progression
Optional breadcrumbs:

 [15-30] Mouton Flamestar or

 [15-30] Hero's Call: Burning Steppes! or

 [15-30] Warchief's Command: Burning Steppes!
Burning Vengeance
 [15-30] 

Stocking Up

/  [15-30] 

A Future Project

/  [15-30] 

Mud Hunter

 [15-30] 

The Sand, the Cider, and the Orb

 [15-30] 

Warlocks Have the Neatest Stuff

/  [15-30] 

Shadow Boxing

 [15-30] 

Return to Keeshan

/  [15-30] 

Return to Ariok

 [15-30] 

A Needle in a Hellhole

 [15-30] 

Prove Yer Allegiance

/  [15-30] 

Scrapped Golems

 [15-30] 

Golem Training

 [15-30] 

A Perfect Costume

 [15-30] 

Into the Black Tooth Hovel

 [15-30] 

Grunt Work

 [15-30] 

The Kodocaller's Horn

 [15-30] 

Taking the Horn For Ourselves

 [15-30] 

General Thorg'izog

 [15-30] 

Trial by Magma

 [15-30] 

I Am the Law and I Am the Lash

 [15-30] 

Enough Damage For One Day

 [15-30] 

Morgan's Vigil

/  [15-30] 

Flame Crest

 [15-30] 

Blackened Ashes

/  [15-30] 

Latent Demons of the Land

/  [15-30] 

A Heap of Delicious Worg

 [15-30] 

Blood Tour

/  [15-30] 

Draconic Vanguard

/  [15-30] 

A Deal With a Dragon

 [15-30] 

Placing the Pawns

 [15-30] 

A Delivery for Thorg'izog

/  [15-30] 

A Delivery for Neeralak

/  [15-30] 

A Delivery for Xi'lun

 [15-30] 

Locked and Loaded

 [15-30] 

Assault on Dreadmaul Rock

 [15-30] 

Glory Amidst Chaos

 [15-30] 

The Spoils of War
Optional breadcrumb to Swamp of Sorrows:

 [15-30] The Bogpaddle Bullet
Patch changes
External links