For other crypts, see Crypt (disambiguation).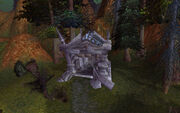 Shadow Grave is a crypt that lies at the top of a slope, within the Deathknell Graves, along the Tirisfal Glades mountains. A path runs down from Shadow Grave to Deathknell.
It was here that undead player characters "came back to life" after character creation, until the Cataclysm, when the storyline was changed. Players now awake in the nearby Deathknell Graves.
NPCs
Trivia
During the Cataclysm beta, when they first updated the storyline, Undertaker Mordo still woke players from their sleep here, but used a broom to knock them awake.
External links