Shadow Hunter Denjai is a jungle troll shadow hunter of the Darkspear tribe that commands the Horde forces in Zangarmarsh from Zabra'jin. According to his soldiers, he can be a little intimidating at first, but once one gets used to him, he's not so bad,[1] and has a temper.[2]
He sent Zurai and a small contingent of builders and warriors to establish Swamprat Post. As soon as the outpost was established, Denjai asked for a report.[3] From Zabra'jin, he was dealing with the threats of the Ango'rosh ogres and the Daggerfen Lost Ones, asking Horde adventurers to thin their numbers and kill their leaders.
He is also seen in Vol'mar Hold in Tanaan Jungle, where he serves as the quartermaster for Vol'jin's Headhunters.
Locations
Quests
Zangarmarsh

This section concerns content related to The Burning Crusade.
Tanaan Jungle

This section concerns content related to Warlords of Draenor.
Vendor information

This section concerns content related to Warlords of Draenor.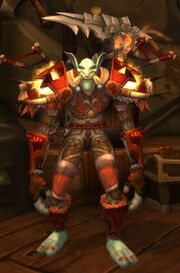 Quotes
Gossip
Zangarmarsh
Welcome to Zabra'jin, <class>. I am Shadow Hunter Denjai, overseer of this outpost and commander of the Darkspear forces in Zangarmarsh.
Tanaan Jungle
We kill 'em here, commander. Every demon we slay in Tanaan is one less we deal with in Azeroth.
We take the fight to Gul'dan. We finish it here!
Vol'jin sent me to support your Tanaan campaign, commander. We shadow hunters be callin' out the targets for you.
Patch changes
References
^  [10-30] 

Report to Shadow Hunter Denjai

^  [10-30] 

Menacing Marshfangs
External links
| Zangarmarsh | Tanaan Jungle |
| --- | --- |
| | |