Shadow of the Necropolis trailer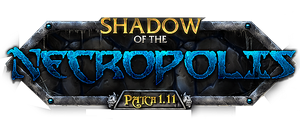 The Shadow of the Necropolis trailer is the official trailer for Patch 1.11: Shadow of the Necropolis.
Trailer
Description
If all your hopes and aspirations turned to ash, what would you do to save them? Whom would you betray; how much would you sacrifice? If evil offered you a deal in your hour of need, would you accept... even if it meant selling your soul? The floating necropolis Naxxramas will make its return to Azeroth - and with it the dread lich Kel'Thuzad. Check out the origins of the cursed necropolis Naxxramas in this new gameplay trailer of the new high level raid dungeon![1]
Transcript
References