Shadowburn
Shadowburn

Shadowburn

Level 15 Destruction warlock talent
40 yd range
2% of base mana
12 sec recharge
Blasts a target for (315% of spell power) Shadowflame damage.

Generates 5 Soul Shard Fragments and an additional 5 Soul Shard Fragments if the target dies within 5 sec.
Max 2 charges

Replaces

[

Conflagrate

]

.

Usable by
Class
Warlock
Properties
School
Shadow
Recharge
12 seconds
Other information
Level learned
15
Improvements

[

Entrenched in Flame

]

Affects

[

Conflagrate

]

Related debuff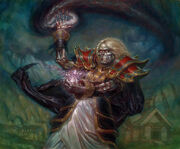 Shadowburn is a level 15 Destruction warlock talent. It is an instant cast direct damage spell that deals Shadow damage. If the target dies within 5 seconds, the warlock gains 2 Soul Shards.
Tips and tactics
If you want to maximize your damage as a warlock in a party, you should finish the mob using Shadowburn when there is too little time for another DoT or Shadow Bolt.
In duels, it is tempting to save the Shadowburn until you are sure that the opponent is about to die. A better strategy may be to use Shadowburn whenever possible, as this will result in a higher damage output.
Patches and hotfixes
See also
External links