Shadowform

Usable by
Class
Priest
Properties
School
Shadow
Cooldown
None/Global Cooldown
Other information
Level learned
10
Related buff
"I draw deep from the shadows to slake my thirst for power. I'm never thirsty for long."[1]
Shadowform is a level 10 Shadow priest ability. When used, it causes the priest to assume a Shadowform, increasing spell damage dealt by 10% .
Notes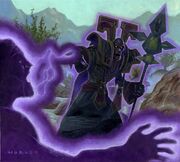 Shadowform does not increase spell damage done by items or consumables.
Shadowform is automatically disabled when using

[

Smite

]

or

[

Flash Heal

]

. This becomes moot as the character levels up and replaces those skills with respectively

[

Mind Flay

]

and

[

Shadow Mend

]
Glyphs
Use: Your innate shadowy form now extends to your mounts and non-combat pets.
Classes: Priest
Requires Level 25
Known bugs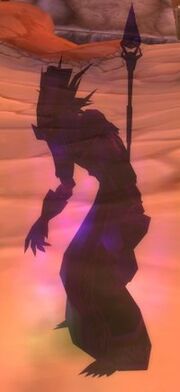 Appearance-altering actions that take place while in Shadowform (such as being poisoned or diseased) will alter the character's appearance until Shadowform is dropped and reassumed.
Trivia
Shadowform is considered the defining shadow priest ability due to its visual appearance altering effects.
Shadowform is an epic Priest spell in Hearthstone, where it changes the standard Hero Power to deal damage in the form of

[

Mind Spike

]

rather than healing in the form of

[

Lesser Heal

]

. Using Shadowform a second time transforms Mind Spike into "Mind Shatter", which deals an extra point of damage. The flavor text reads: "If a bright light shines on a priest in Shadowform… do they cast a shadow?"
Patch changes
See also
References
External links