Shadowy Pile of Bones
Use: Teaches you how to raise Rattlejaw.
Source
This item can drop from Nefarian in Blackwing Descent.
Pet Journal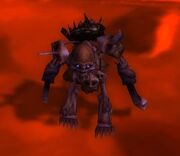 Nefarian's reanimated bone constructs were an effective way to combat the many adventurers that plagued him, and especially their mages.
Battles
Undead: Returns to life immortal for one round when killed, but deals 25% less damage.
Patch changes
External links
Battle pet types
Undead battle pets

Backbone

Carpal

Clutch

Lost Soul

Maw Crawler

Micromancer

Mu'dud

Rattlejaw

Severs

Spinebug

Toenail

Torghast Lurker

Writhing Spine