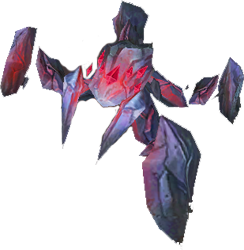 Shale spiders are earth elemental creatures, with four spiderlike legs, that mostly only appear in Deepholm. The elemental shale spider is no true arachnid, but it has durability and ferocity that make it feared even in Deepholm.[1]
Like normal earth elementals, shale spiders are also capable of leaving the earth plane. Some of these creatures have appeared in the Twilight Highlands devouring Elementium, and others in The Jade Forest in Pandaria devour jade. Pandaren miners refer to them as "nibblers."[2]
Through experimentation, the mages of Dalaran have discovered that the powered remains of a crimson shale spider will greatly increase the conflagration of their fire spells.[3] Adult amethyst shale spiders prefer to create their nests against the outer walls of Deepholm.[4] Prized by gem crafters, the undamaged carapace of a topaz hatchling can be used to create stunning inlays for rings and bracelets.[5]
Notable
Types
Azergem Crystalbacks are shale spiders found on island expeditions with

[Azerite] coming out their backs.
As a companion pet
The
 [Tiny Shale Spider] drops off of Jadefang, a rare spider located within the Crumbling Depths caves of Deepholm. The Amethyst Shale Hatchling, Crimson Shale Hatchling, Emerald Shale Hatchling and Topaz Shale Hatchling can be obtained through pet battles.
As a hunter pet
Main article: Shale beast
Shale spiders are tamable by hunters as part of the shale beast family. The family was originally named "shale spiders" but was renamed and expanded to include gyreworms in patch 9.0.1.
Patch changes
References
External links

Petopia
 

Basic
Special

Acid Bite

Chi-Ji's Tranquility

Defense Matrix

Dragon's Guile

Feather Flurry

Fleethoof

Furious Bite

Grievous Bite

Infected Bite

Nether Energy

Niuzao's Fortitude

Obsidian Skin

Scale Shield

Spirit Pulse

Toxic Sting

Winged Agility

Exotic

Calcified Carapace

Dune Strider

Shimmering Scale

Bonus
Specialization
Creature group
Elemental creatures

Elements

Types
Variants

Air variant
Earth variant
Fire variant
Water variant

Other
Golem
Nature