"Totem" redirects here. For the old shaman relic items, see Totem (relic).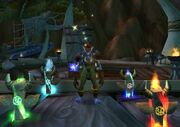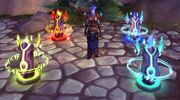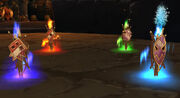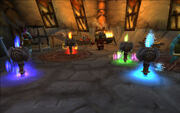 Totems are tools used by a shaman as an instrument of war. Characterized by their immobility and area of effect, the totems embody the shaman's mastery over the elements. Some totems possess destructive power while others aid and assist allies. Shamanistic cultures outside those of the Horde and Alliance also possess the ability to use totems in battle.
Totems are unique to the shaman. Once a totem is put down it cannot be moved, but a new totem can be used to replace it. Although the shaman's totems are summoned and fixed near the caster, a shaman player can place a totem while moving. A totem's effect is only active within a certain radius of the totem (making it a hybrid version of Point Blank Area of Effect and Ground Targeted Area of Effect). The totem can be planted underwater, and appears floating at the foot level of the character. Totems are immune to AoEs and DoTs, and must be specifically attacked to be destroyed.
Totems are considered spells, and summoning totems can be prevented by silencing effects.
Positional placement of totems
Totems are always placed roughly 3 yards away from the position from where you cast it. The exact position of the totem is dependent on where you are when you cast it, and in which direction you are facing.
Types
Fire Totem
Fire Totem Spells
Level
Totem
Source
110

[

Skyfury Totem

]

Rank 4 honor talent
Air Totem
Unspecified
Old totems
The subject of this section has been removed from World of Warcraft.
Gallery
Object
Tauren totem object in Dalaran, a more modern model of the tauren shaman totem.
Totems used by NPCs
Heroes of the Storm
Artwork
Trivia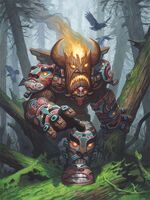 Patch changes
See also
Shaman totems

Earth
Fire
Water
Air
Others
Removed