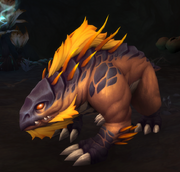 Shardhides are a type of beast found in Korthia. Enveloped in calloused hides and armed with vicious claws, these lumbering beasts ferociously fight any who encroach on their territory.[1] Shardhides are part of the Scalehide hunter pet family.
As a mount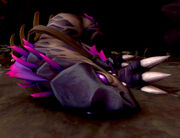 Main article: Shardhide mounts
Notable specimens and types
Trivia
Shardhides use the bear animation rig. They were also part of the bear pet family during early testing.
References
Creature group
Beast creatures

 

Arthropod

Arachnid
Crustacean
Insect

 

Mammal

Carnivoran
Ungulate

Bovids
Camelids
Cetaceans
Proboscids
Swine

 

Other

Amphibian
Echinoderm
Shardhide

Feathermane
Mollusc
Worm