Shimmering Expanse quests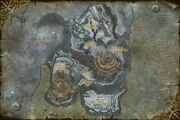 The quests of Shimmering Expanse, the second subzone of Vashj'ir.
Shimmering Expanse is fairly heavily phased and is a directed questing experience. Players will be led here from Kelp'thar Forest.
Silver Tide Hollow
After

 [81] The Warden's Time in Kelp'thar Forest:
Nespirah
Killing the Fathom-Lord drops the
 [Luminescent Pearl], which continues the chain
Ruins of Vashj'ir
Completing Waking the Beast will send players to their first faction hub since the shipwreck:
Getting settled:
 [81] 

Swift Approach

/  [81] 

Caught Off-Guard

/  [81] 

A Better Vantage

 [81] 

The Call of the Blade

(optional)
After the first Visions of the Past, players are sent to their faction's forward post:
After the second Visions of the Past, players are sent back to the first faction hub:
Players are then sent to the Abyssal Depths in Full Circle.