For the objects related to quests, see

Shipwreck Debris (Krasarang Wilds)

and

Shipwreck Debris (Stormheim)

.
Shipwreck Debris is a fishing pool which primarily contains Sealed Crates. These pools can be found in the coastal waters of Tol Barad and Darkmoon Island.
Contains
Each pool contains 1 or 2 catches.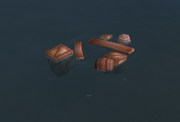 Tol Barad
Darkmoon Island
Always a

 [Sealed Crate].
Locations
Patch changes
External links
Fishing pools

World of Warcraft
The Burning Crusade
Wrath of the Lich King
Cataclysm
Mists of Pandaria
Warlords of Draenor
Legion
Battle for Azeroth
Shadowlands

Pocked Bonefish School

Spinefin Piranha School

Removed