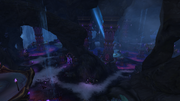 Shirakess Repository[60, 13]

is located in Nazjatar.
Mobs
Quotes
An Unseen Presence whispers to the player when in Deepcoil Tunnels or Shirakess Repository.
All alone in the depths...

Such a heavy burden you carry. Soon you will be free of it.

Your crimes are terrible... numberless... glorious...

Your wakening draws near...

Thief. Renegade. Murderer. Servant.

Let go...

The tide…rises.

The breaker of chains comes.

Your eyes open.

Closer, closer…

All paths open. All truths, revealed.

Our fates are one.

Your heart, your offering, all dreams made real.

Your wakening draws near.