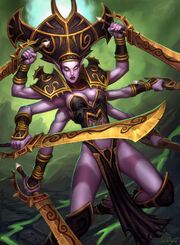 For Shivarra lore, see Shivarra. For the spell to summon a Shivarra, see

[

Summon Shivarra

]

.
The Shivarra is a demonic minion, available at level 75. It is unlocked by the talent

[Grimoire of Supremacy] and replaces the Succubus.
Abilities
As a warlock minion, the Shivarra possesses three abilities replacing those of the Succubus.
Quotes
Attack
"Yes yes... I heard you."
"I cannot wait to see their blood spill at my hands!"
Dismiss
"My fury goes unsated!"
"I never forget."
"Don't you dare forget my name!"
"Good! Go play with some other demon. I want nothing to do with you!"
Joke

"Hey! What do you mean you have your hands full. Have you taken a good look at ME lately?"
Order
"How dare you order me around!"
"Let them dance with my blades!"
"Let's see how long they can look me in the eye!"
"How about you help me out this time? hmm?"
Summon
"How dare you summon me?"
"I'm not some trifling toy for you to call up on as you please!"
"What do you want?"
"Really? You summoned me? *Laughs*"
Trivia
Patch changes