Short John Mithril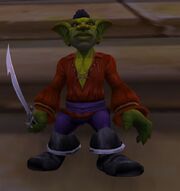 Short John Mithril is a goblin pirate captain of the Bloodsail Pirates[2] and an arena master in the Gurubashi Arena in the Cape of Stranglethorn. He initiates the battle of the chest in regular intervals of every 3 hours. When the game clock strikes 12, 3, 6, or 9, Short John will start the battle.
He also appears on Mechagon Island in search of murloc treasure.
Quests
 [55] 

Arena Grandmaster

 [55] 

Arena Master

 [120 Daily] 

Go For The Gold
Quotes
Arrr, Me Hearties! I be havin' some extra Treasure that I be givin' away at the Gurubashi Arena! All ye need do to collect it is open the chest I leave on the arena floor!

Let the Bloodletting Begin!

Ah, hits the spot!
Gossip
Arr! There be nothin I like to see better than folks fightin to the death in the arena. If you be here at the right time maybe you can be one of them!
Trivia
Patch changes
See also
References
External links