This article's name is unofficial.

Please note that while the content is valid, this article's name is not official.
This is because no official name is available for the subject of this article. We use a descriptive name instead.
This article should not be moved unless discussed first - Remember to follow the naming policy.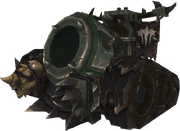 Siegemakers are artillery weapons used by the Iron Horde. Powered by iron stars, their frame can be modified for troop transports rather than cannons.
Known