This article's name is unofficial.

Please note that while the content is valid, this article's name is not official.
This is because no official name is available for the subject of this article. We use a descriptive name instead.
This article should not be moved unless discussed first - Remember to follow the naming policy.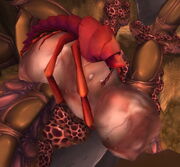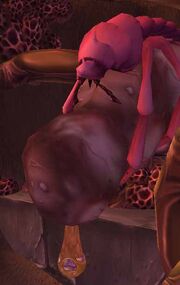 This section contains information from the Warcraft RPG which is considered non-canon.
Like all silithid, the queen exists to serve the hive, and is specialized in her role by laying eggs.[1]
While silithid haven't been a visible part of the world long enough for anyone to accurately gauge their lifespans, some researchers think that after achieving adulthood, a common silithid can live for up to 5 years, although queens can survive for decades.[1]
Known
A gigantic silithid creature in the Hatchery of Ahn'Qiraj, always laying eggs, is presumed to be a queen, possibly the queen.
References
Creature group
Beast creatures

 

Arthropod

Arachnid
Crustacean
Insect

 

Mammal

Carnivoran
Ungulate

Bovids
Camelids
Cetaceans
Proboscids
Swine