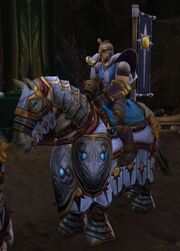 Silver Hand Knights located in the Sanctum of Light, inside the Greyfang Enclave and briefly at Krasus' Landing in Dalaran. They are later present in Deliverance Point on the Broken Shore. They are also in the


 [110] Stirring in the Shadows scenario. Ultimately, they can be seen on the Vindicaar.
Abilities
Broken Shore
Blessing of Kings
Vindicator's Fury
Sanctum of Light
Hammer of Supreme Justice
Netherlight Temple
Consecration
Crusader Strike
Divine Storm
Fel Prison
Hammer of Justice
Scenario
Crusader Strike
Holy Light
Holy Strike
Seal of Protection
Quotes
Main article: Stirring in the Shadows#Notes
Approaching the

Charger Saddle

Highlord, your saddle is ready to take into battle!
Trivia
Patch changes
External links