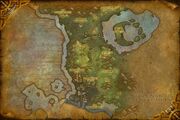 Silverpine Forest is a level 10-20 Horde-only zone in eastern Lordaeron and the direct followup of the Tirisfal Glades storyline, part of the Undead starting experience.
After the quest chain, the Hillsbrad Foothills storyline opens up with

 [7-30] Empire of Dirt. However, as soon as players reach level 19,

 [7-30] Warchief's Command: Hillsbrad Foothills! opens up as well from High Warlord Cromush.
Optional breadcrumb:

 [5-30] Warchief's Command: Silverpine Forest!