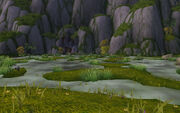 The Singing Marshes can be found in the hills high above the Paoquan Hollow of northwest Valley of the Four Winds. The area appears to be a nesting ground for cranes, seagulls, and even a tallstrider, which has laid claim to an old abandoned cave.
Singing Marshes Digsite
The area also contains a Mogu archaeology digsite.
Patch changes
External links