Sinister Strike

Sinister Strike
Level 1 rogue ability
Melee range
45 Energy
Requires One Handed Melee Weapon
Viciously strike an enemy, causing (21.762% of Attack power) Physical damage.



Awards 1 combo point.

Rank 2:

Sinister Strike's energy cost is reduced by 5.

Usable by
Class
Rogue
Properties
School
Physical
Cooldown
None/Global Cooldown
Other information
Level learned
1
Rank levels
12 (rank 2)
Sinister Strike

Sinister Strike
Level 10 Outlaw rogue ability
Melee range
45 Energy
Requires One Handed Melee Weapon
Viciously strike an enemy, causing X Physical damage.



Awards 1 combo point each time it strikes.

Rank 2:

Sinister Strike has a 35% chance to hit an additional time, making your next Pistol Shot half cost and double damage.

Usable by
Class
Rogue
Properties
School
Physical
Cooldown
None/Global Cooldown
Other information
Level learned
10
Rank levels
12 (rank 2)
It adds injury to insult.[1]
Sinister Strike (commonly abbreviated to SS) is a level 1 rogue ability. You must have a melee weapon equipped to use the ability, and not be disarmed. Sinister Strike can be used on any mob, in any position, in any combat state, and has no refresh rate beyond its energy requirement. You must be facing your target.
This ability is replaced with

[Mutilate] for Assassination rogues and

[Backstab] for Subtlety rogues.
Formulas
The damage of the Outlaw version of sinister is calculated as follows:
Levels 10-20:
Damage = (45.279% of Attack power) * ((Level - 10) * 8 + 195) / 275

Levels 21+:
Damage = (45.279% of Attack power)

Trivia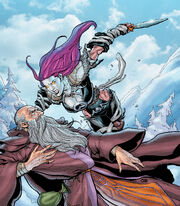 Gallery
Patch changes
See also
References
External links
Base
Outlaw
Rank 2
(Assasination)
Rank 2
(Outlaw)