Skaggit
Skaggit is a goblin assistant of Gazlowe. Senior Peon II is his assistant. He helps to coordinate Frostwall's development and stays in its Town Hall after it is fully constructed.
Locations
Quests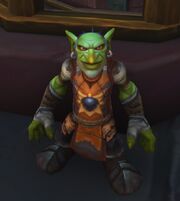 Objective of
Quotes
Dialogue
...
Gossip
Frostwall
Commander, your pack of peons awaits your orders.
Mechagon Isle
Everything's running smoothly down here. Ahead of schedule.
You get what you pay for with the Greasemonkey, and the pay ain't cheap.
On-click
...
Patch changes
External links