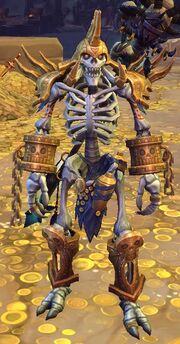 Skeletal trolls are undead troll skeletons appearing on Zandalar, mostly at Nazmir and Vol'dun.
Notable

Please add any available information to this section.

Notes and trivia
The undead dire trolls are referred to as zombies.[1]

Their sound files are also called "trollzombie".[2]
They are called skeletal trolls by Kenny McBride the character artist who made the model.[3]

Troll skeletons were already introduced in vanilla World of Warcraft, but looked like any other skeleton.
Gallery
References
Creature group
Undead creatures