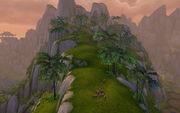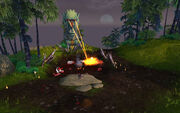 Skyrange is the high ridge extending southward from the mountain range border of the Vale of Eternal Blossoms in northwest Valley of the Four Winds. It is only accessible with a flying mount. Skyrange overlooks the western end of the Heartland to the east and the Singing Marshes and Paoquan Hollow to the west. On the northern end of Skyrange is Kunzen Village and the Kunzen Cave.
Several Stout Shaghorns gather in herds to graze on the mountain alongside the Skyrange Mushan. Just south of the Kunzen Village is a hozen ritual area where Kunzen Ritualists are found performing rituals.
Kunzen Hunters are found roaming the cliffs, while the Hunter-Chief is found at the far south.
There are some Tiller quests received at Halfhill that lead players here.
Patch changes
External links