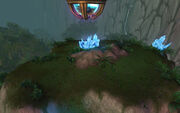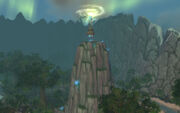 The Skyreach Pillar is a tall butte-like formation in southeast Sholazar Basin. It is very similar to the Glimmering Pillar, Mosslight Pillar, and Suntouched Pillar.
Notes

 Oracle Soo-nee wants adventurers to use the
 [Didgeridoo of Contemplation] atop this pillar as part of the

 [20-30 Daily] Song of Reflection.

 High-Shaman Rakjak of the Frenzyheart Tribe wants help gathering

 [Skyreach Crystal Cluster] around the base and south of the pillar. To the northwest,

 Pitch can sometimes be found in the Wildgrowth Mangal stalking his prey.
External links