Slaughter Hollow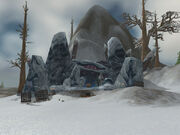 Slaughter Hollow is an ogre mound deep in the Alterac Mountains home to the Crushridge ogres.
Notes
No quests take place here and this area no longer serves any purpose.
There was once a captured gnome in a cage that served as a vendor here, Rizz Loosebolt. He is no longer here.
External links