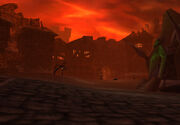 Slaughter Square is located deep in Stratholme's Service Entrance part of the city, and is the location of the Slaughter House. The square is full of abominations which defend their master, Lord Aurius Rivendare, from intruders. Access to the square is reached by the Gauntlet, where all the three ziggurats must be shut down in order to open the Slaughter Square portcullis. The Bayberry Inn is located here.
Raid portal
There is a raid instance portal here. This was intended to lead to Naxxramas, similar to the Molten Core entrance from Blackrock Depths.[1] Carefully using a flying mount to approach Stratholme from the outside shows that an old version of the necropolis is still flying near Slaughter Square.
There are ruined flags carrying the insignia of Lordaeron (in original blue) inside the tunnel, which are not seen anywhere else inside Stratholme, and the tunnel leads to an abandoned place where an untextured necropolis is.
References