Slayer's Felbroken Shrieker

Slayer's Felbroken Shrieker
1.5 sec cast
Summons and dismisses your Slayer's Felbroken Shrieker. This is a flying mount.

Usable by
Class
Demon hunter
School
N/A
Cooldown
None/Global Cooldown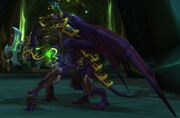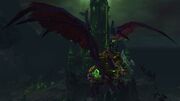 The Slayer's Felbroken Shrieker is the demon hunter class hall mount.
History
After the Illidari captured Mardum, they continue to use it as a breeding station. A part of Mardum is Felwing Ledge where felbats are raised by the Illidari for use against the Legion under Matron Mother Malevolence.
One day a rare specimen attacked the breeding ground of the Illidari. Under normal circumstances, Malevolence would simply kill the beast as it is too mature to be trained. However, she decided to give The Slayer a chance to tame it.
The Slayer fought tooth and nail, but Lixahl eventually ran away. Fortunately, it left a trail of blood behind. Using their

[Spectral Sight], The Slayer followed the beast to the edge of Felwing Ledge, even gliding through the heavens to get it.
Eventually, it is subdues and The Slayer gets a new mount.
Source
This spell is a quest reward from

 [45] To Fel and Back.
Quest-line
  [45] 

Livin' on the Ledge

  [45] 

To Fel and Back
Mount Journal
You broke it, you bought it.
Patch changes
External links
Legionfall Class Mounts
Mount family

Dragonkin
Feathermane
Invertebrate
Mammal
Reptile
Other

Specific types

 

Demonic mounts

Infernals
Vilefiends