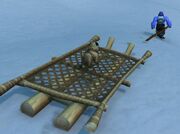 There are sleds in-game.
In World of Warcraft
In the RPG

This section contains information from the Warcraft RPG which is considered non-canon.
A sled is a type of wagon on runners for moving through the snow and over the ice. Usually, two horses (or other beasts of burden) draw it. It comes with the harness.[2]
References