For the debuff type, see snare.
Slow

Slow
Level 12 Arcane mage ability
35 yd range
1% of base mana
Reduces the target's movement speed by 50% for 15 sec.

Usable by
Class
Mage
Properties
School
Arcane
Cooldown
None/Global Cooldown
Other information
Level learned
12
Related debuff

Slow
Movement speed reduced by 50%.
Duration: 15 seconds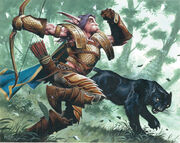 "A... little... help... here?"[1]
Slow is a level 12 Arcane mage spell that slows the enemy's movement speed by 50% for 15 seconds.
Notes
This is very powerful crowd control ability, and if used correctly, can save more lives than
[Ice Block].
Slow is dispelled as a magic type debuff.
Tips and tricks
This is useful against most melee classes in PvP. The snare is as effective as any frost-based snare, and the cast is instant, meaning it can be cast on the run to better escape.
Background
Warcraft II: Tides of Darkness:
The Mages of Lordaeron have been able to create a spell that hinders both movement and reflex. By warping the very patterns of time that surround his target, Slow enables the caster to bring an enemy's offensive to a crawl. Time cannot be held in check by even the mightiest of Mages, however, so the effects of this temporal shift cease as the power of the spell wanes.[2]
Warcraft III: Reign of Chaos:
Patch changes
See also
References
External links