Small Treasure Chest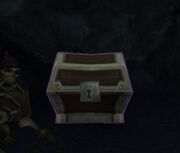 Small Treasure Chests can be found scattered throughout Mardum, the demon hunter starting world, and the Vault of the Wardens. Some are fairly obviously placed, but others require a bit of exploring to reach. They have a chance at containing the following:
In the Broken Isles they can also contain an Artifact Power item.
Locations
Mardum
cave entrance
Caza's chamber
Vault of the Wardens
Patch changes
External links