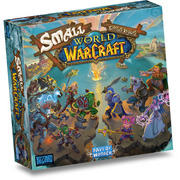 Small World of Warcraft is a World of Warcraft strategy board game developed by Days of Wonder. It was first announced at BlizzCon 2019[1] and released in September 2020. As the name suggests, it is a Warcraft-themed version of the 2009 board game Small World.
Description
A new day dawns on Azeroth. A day like every one before it, and every one after. A day of merciless struggle for the control of the World of Warcraft. Not only is this Small World territory far too tight for everyone, it also hosts the never-ending conflict between the factions of the Alliance and the Horde. Dawn has broken and the time has come to take your place on the front lines.
Small World of Warcraft is a stand-alone board game set in Blizzard's glorious video game universe, Azeroth. 2-5 players vie for control of several islands in this hostile world and their only hope will be to pick the right combination of races and special powers. After staking your claim to a piece of land, defeat your neighbors and expand your territory. If you can occupy legendary places and control powerful magical artifacts, you'll reach new levels of domination. However, empires must eventually fall, so be ready to put your over-extended race into decline and lead a new one to glory so you can eventually rule Azeroth.[2]
Inside the box
Contains
6 Double-Sided Game Boards
16 World of Warcraft Races with matching banners & tokens
20 Special Power badges
7 Legendary Places & 5 Artifacts
10 Mountains, 15 Murlocs, 9 Wisp Walls, 4 Harmony tokens, 12 Bombs, 1 Champion, 10 Forts, 2 Military Objectives, 5 Beasts & 6 Watch Towers
1 Game Turn track & 1 Game Turn Marker
110 Victory Coins
5 Summary Sheets
1 Reinforcement Die
1 Rules Booklet
1 Team Variant Rules sheet
Game information
2-5 players
Aged 10 and more
40-80′
Races
The game has 16 playable Races—6 Alliance, 6 Horde, and 4 neutral—along with one non-playable Race (murlocs):
Special Powers
Battle Master
Championing
Defensive
Enraged
Explorer
Farmer
Garrisoned
Intimidating
Marshdweller
Portal Mage
Sailing
Swamp Walker
Artifacts
Legendary Places
Gallery
Race artwork
Videos
References
External links
Warcraft

World of Warcraft

Editions

Standard

Battle Chests

Collector's

Digital Deluxe

Other

Misc.

Non-computer

Board Games

Card Games

Movies

Other

Games and products followed by  † were canceled, are no longer being produced, or just no longer available.