Not to be confused with  

[

Lil' Deathwing

]

.
Smoldering Murloc Egg
Use: Teaches you how to summon this companion.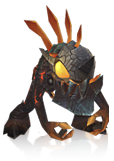 Deathy is a companion that was given out to attendees of BlizzCon 2010, purchasers of the DirecTV pay-per-view of the event, and purchasers of the internet streamed video of the event. Deathy is a murloc companion decked out as Deathwing, doing his best to strike fear into the hearts of Azeroth's crustacean population.[1]
Deathy is delivered by in-game mail to every character on a player's Battle.net account that has been attached to a Deathy code, much like collector's edition companions. On pulling this item out of your mailbox, you receive the

 [Deathy] feat of strength. He will occasionally breathe smoke, and more rarely leap into the air, letting loose a burst of flame.
Description
Players are mailed this pet by Master Handler Sylvester:
Smoldering Murloc Egg
Thank you for your attending Blizzcon 2010!
As a special gift of appreciation, we would like to present you with this ferocious little companion.
He may loathe Azeroth with a seething rage that knows no bounds, but he sure loves you!
Pet Journal
Deathwing's emergence transformed the whole of Azeroth; not even the ocean-dwelling murlocs were immune to his corrupt influence.
Battles
Humanoid: Recovers 4% of their maximum health if they dealt damage this round.
References
Patch changes
External links
Battle pet types
Humanoid battle pets

Dal

Deathy

Lightless Tormentor

Lost Featherling

Rook

Ruffle

Spriggan Trickster

Steward Featherling

Winterleaf Spriggan