Solar Orb
Solar Orb
Use: Carefully crate the restored artifact.
"Artifact details have already been logged in your Archaeology Journal, under the Completed Artifacts tab."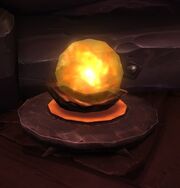 Solar Orb is a common arakkoa archaeology artifact, created from 50

[Arakkoa Archaeology Fragment]. One
 [Arakkoa Cipher] may be used to solve this artifact.
Description
Central to High Arakkoan culture is reverence of Rukhmar and the sun. Hundreds of Solar Orbs are scattered around Skyreach, which cast a never-ending light so no Arakkoan need go without the sun's warmth, even on a cold and overcast day.
Patch changes
External links