The subject of this article or section did not make it out of the beta stages of World of Warcraft: Legion.

The in-game information in this article or section is kept purely for historical purposes.
Son of Goredome
Use: Teaches you how to summon this companion.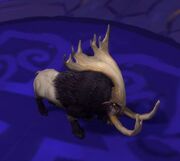 The Son of Goredome is a shoveltusk companion. He is the son of Goredome.
Source
This item dropped from the Son of Goredome north of Tideskorn Harbor in Stormheim.
Pet Journal
Like father, like son.
Battles
Trivia
During early testing its Pet Journal entry read, The proud line of Goredome has been reduced to a joke.
Patch changes
External links
Battle pet types
Beast battle pets

Archetype of Cunning

Archetype of Discovery

Archetype of Predation

Bloodfeaster Spiderling

Blushing Spiderling

Copperfur Kit

Corpulent Bonetusk

Goldenpaw Kit

Green Viperid

King Viperid

Momma Vombata

Red Viperid

Rosetipped Spiderling

Ruby Baubleworm

Rustfur Kit

Sable

Son of Goredome

Tarachnid Ambusher

Tarachnid Stalker

Topaz Baubleworm

Tunneling Vombata

Turquoise Baubleworm

Verdant Kit

Viperid Menace

Vombata Pup