Soul Link
Soul Link

Soul Link
Level 42 Demonology warlock ability

Passive

20% of all damage you take is taken by your demon pet instead.

Soul Leech also heals you for 25% and your pet for 50% of the absorption it grants.

Usable by
Class
Warlock
Properties
School
Shadow
Other information
Level learned
42
Affects

[

Soul Leech

]

Related buff
"You'll do as I say, even if it means the death of you."[1]
Soul Link is a passive level 42 Demonology warlock ability. It causes the warlock's demon pet to take 20% of the master's damage, and both to be healed by absorption granted by

[Soul Leech].
Notes and trivia
If a warlock's demon is Banished, this effect will be removed until the demon is back under control of the master.
During the MoP beta, it had the flavor text "The strongest of bonds is one which shares pain and pleasure equally." by Kanrethad. It becomes available to warlocks who complete the green fire quest chain.
Patches and hotfixes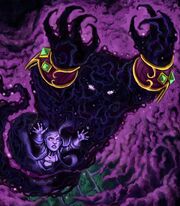 Formerly redirected 50% of all damage and lasted for 30 seconds, but was dispellable.

Patch 1.7.0 (2005-09-13): Fixed a bug where Soul Link and Power Word: Shield, when used together, would heal the Warlock instead of splitting or absorbing damage.

Hotfix (2005-07-28): Hotfixed a bug which was preventing warlocks from targeting their pets with various spells and abilities, including Soul Link.

See also
References
External links