For other uses, see Soul Eater (disambiguation).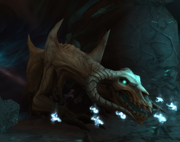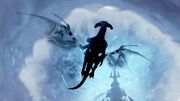 The soul eaters are beasts that lurk in the Maw. They prey with wicked talons, relishing the screams of their victims before consuming them soul and all.[1] There are two types of soul eaters: winged soul eaters as well as those without wings.[2]
As a mount
Main article: Soul eater mounts
Notes
Concept art refers to them as Shade beasts.
Gallery
References
Creature group
Beast creatures

 

Arthropod

Arachnid
Crustacean
Insect

 

Mammal

Carnivoran
Ungulate

Bovids
Camelids
Cetaceans
Proboscids
Swine

 

Other

Amphibian
Echinoderm
Soul eater

Feathermane
Mollusc
Worm