Southbreak Shore

Pirates on Southbreak Shore after the Cataclysm.
Type
Port
Leader(s)
 Captain Dreadbeard †
Race(s)
 Human
Affiliation(s)
Southsea Freebooters
Location
Tanaris[64, 59]
Status
Active
Southbreak Shore in Tanaris is an expanse of flat beach to the south of Lost Rigger Cove. It is quiet and almost deserted apart from the hostile pirates that have taken over the northern section of the beach. From here Captain Dreadbeard commands the local pirates and has begun getting aid from sea giants, though unclear how.
The hostile turtles and sea giants that roamed the surf has moved on and in their place Duneshore Crabs now skitter around.
Just off the coast lies a small island[65, 64]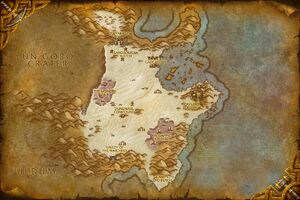 with a lone gnome named Winkey. She offers no reason to visit her.
External links